Matkins Frames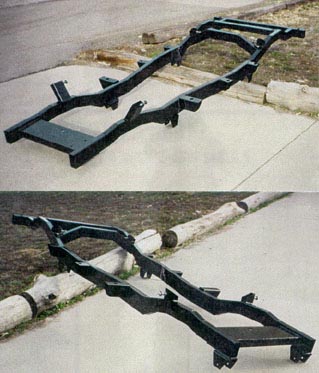 FRAME PRICE LIST		
		
PART #	DESCRIPTION							PRICE
CJ5F120	CJ 5 FRAME heavy duty w/ 1/8" tube walls			$1,495.00
CJ5F188	CJ 5 FRAME extra heavy duty w/ 3/16" tube walls			$1,695.00
CJ7F120	CJ 7 FRAME heavy duty w/ 1/8" tube walls			$1,495.00
CJ7F188	CJ 7 FRAME extra heavy duty w/ 3/16" tube walls			$1,695.00
CJ8F120	CJ 8 (Scrambler) FRAME heavy duty w/ 1/8" tube walls		$1,595.00
CJ8F188	CJ 8 (Scrambler) FRAME extra heavy duty w/ 3/16" tube walls	$1,795.00
YJ74120	YJ   FRAME heavy duty w/ 1/8" tube walls			$1,575.00
YJ74188	YJ   FRAME extra heavy duty w/ 3/16" tube walls			$1,775.00
CJSH	Set of 4 shackle hangers w/ bushings, greasable bolts,nuts	  $145.00
CJSS	Set of 4 pairs of shackles - heavy duty, to mount on stock hangers $35.00
CJSSM	Set of 4 pairs of shackles - to mount on heavy duty hangers	   $35.00
CJS3	Set of 4 pairs of shackles - w/ 3" lift at shackle (stock hangers) $55.00
CJS3M	Set of 4 pairs of shackles - w/ 3" lift at shackle (heavy duty hangers)	$55.00
CJ54	Set of 4 pairs of shackles - w/ 4" lift at shackle (stock hangers)	$58.00
CJ54M	Set of 4 pairs of shackles - w/ 4" lift at shackle (heavy duty hangers)	$58.00
HDSP	Heavy duty transfer case skid pan for CJ 7 1976-79		  $275.00
PUBS	Polyurethane bushing set 1976-87 CJ 5, CJ 7, & CJ 8         
	( 24 bushings & greaseable bolts for springs & shackles)	   $95.00	
PB57	Polyurethane body mount bushing for 1976-87 CJ 7 (complete set)	   $55.00
PB8	Polyurethane body mount bushing for CJ 8 (complete set)		   $60.00
SBB	Sway bar brackets - Fits our custom frame		   	   $75.00
	










Here is some technical information on Matkins Frames


We sell four different frames for your application starting at $1350 for a 3/16 wall mandrel bent frame much like others are making except it is 7/16 thick on the bottom and gussetted to make it as strong as the stock frame. If you really want strength, you'll want one of our Extreme Frames. They are over sized and fully welded just as is required in NASCAR and Super Trucks where mandrel bending is banned. I'll explain the differences and prices.

Unlike all the other frame companies on the national market we use OVERSIZED rails. Those smaller companies sell UNDERSIZED rails made of nothing more than a 4x2 tube. To avoid admitting this they talk about wall thickness only. Jeep never made a box tube rail that small. In 1976 Jeep started using a box tube design. They made the rails exactly 4 1/2x2 1/2 in the middle. The difference sounds small, but that is 2 inches of wall missing!!! And they almost always break in the middle if the problem is stress. The other guys will sell you a rail that is so small it will fit inside the stock rail. We use bigger 5x2 tube and reinforce it with solid 2x1/4 bar on the bottom. Then we bring it down to 4x2 only at the ends. That means that our bottom line frame with 1/8 inch walls in the tube is actually 3/8 thick on the bottom.

The end result is that our 1/8-3/8 inch Level I frame costs only $1495 and has more metal in the middle than their 3/16 frame. At only Level I, the cross sectional area of actual steel measures 2.12 square inches, their 3/16 is only 2.11 square inches. Our 3/16-7/16 inch Level II frame has 2.98 and the 1/4-1/2 Level III has 3.75 square inches. And because our rails are 1 1/4 inches taller, they have 31% more leverage than the little rails offered by those smaller companies and 16% more than stock. At $1695 for our Level II frame you get 41% more steel in the middle than their big 3/16 inch model. The Level III at $1895 blows theirs away.

Weights are a good way to compare our Extreme Frames to the stock frame and each other. The stock CJ7 frame weighs about 200-210 pounds. Another company has offered an 1/8 inch CJ7 frame that they claimed over the phone as recently as Sept. 1999 weighed in at a whopping 175 pounds! This has presented problems, evidently, so they now offer the same thing in a 3/16 thickness. That still leaves them with less steel than stock in the high stress middle area. They will advertise thicknesses of .120 and .188. But if you buy one of their frames you will not get rails that are actually that thick. I'll explain that in a moment. Our weights are as follows: Level I, 230; Level II, 310; and Level III, 400 on the CJ7 frame.

If all else fails they say they use less steel because the frames should flex. Isn't that why they break? C-channel frames are made to flex, not tube frames. And mild steel will not take continuous abuse like that.

Another factor that is important is the method of forming the rail. As you may know, NASCAR and Super Trucks have both banned mandrel bending due to strength issues. They use as light a frame as possible for speed and the cars get a lot of strength from the cages. They use very light tube. So, they require MIG welding with no ground welds, just like we do it. Of course, we use larger and heavier material.

Bending weakens the rails three ways. First, the metal on the outside of the curve is stretched. If you start with .120, standard 1/8, wall 4x2 and bend a gentle 12 inch center line radius, the outside wall is stretched and thinned to less than .085 inch. This qualifies as sheet metal and you can bet that the other companies will not tell you this little secret. Standard 3/16 starts at .188 and becomes .135 or less.

Second, bent metal is crystallized metal. That is why an Allen wrench tends to break at the knee. The rails will be as weak as a frame that has been in a wreck and straightened! At EVERY corner.

Third, most bending machines leave the tube wrinkled and partially collapsed at the corners. This is even worse than the stretching. To some extent, all bent frames suffer from this flaw. Even most ad pictures can't completely hide it.

If you just love bent rails for the looks, we handle a frame for your application that is also mandrel bent. The rails are 4x2 tube just like the other guys, but with about 25% more steel so that they are up to OEM strength. And they have the heavier cross members like our Extreme frames. These start out at $1350 and we call these our Economy Frames.

We love the after market industry and that is why we take the time to expose these sorts of things to our friends, whether they buy from us or not. Many of our friends are on the national rock crawling circuit and we sponsor a few. These factors have contributed to the trouble that 4x2 frames have had traditionally. Perhaps these factors are why the companies with under sized rails don't talk about outside dimensions and weights.

Now let me say a word about finishes. It is easiest on your end to have the chassis finished after you have horsed it around and scratched it up putting on lines, axles, and so forth. We charge $450 to powder coat it any color you want. But it does nothing for the rust. Box tube frames rust from the inside out. As far as I know, no plant in the country can get the inside coated. And how do you get it clean enough? There will be cutting oil, smoke, and mill scale inside. We will do it, but it will only protect the outside. The competition is offering a 10 year rust-through warranty if you hand them $400 or 500 for the job. This seems odd to me since an uncoated frame will last 20-30 years in most environments.

Galvanizing is available for $425, but it presents much the same problem. The mill scale and other contaminants are not likely to be completely removed from the inside. Of course we only offer hot dip galvanizing, not zinc paint.

Our approach is to eliminate all unnecessary rail holes. This prevents mud loading so the inside can dry. Then you can fill the rails with a product like POR15. This is a fraction of the cost of other things. Or we can do a similar treatment for $195. We offer a limited lifetime warranty against rust through and so does POR15. We are currently using a DuPont product that is not available in small quantities.

Stainless steel is a material not particularly suited to frames. If you use a grade hard enough to resist rust in a salty, wet environment, it will be far too brittle to take the shock of rough driving on a cold day. The grades that are good enough to resist corrosion in any environment are the 300 series grades. The 400 series grades are softer and less likely to crack, but they will rust in a salt environment. Stainless gun barrels made from 300 series grades may crack if dropped or fired when too cold. Again, if you are serious about stainless steel, we will price out the material. Just be advised you may have problems. Companies are offering stainless for rust, but have they done their homework?

We have a warranty program like most other performance parts companies. We warrant our frame will be just as we told you it will be, that it will fit, and that the material and workmanship will be good. If you have a complaint we will give total replacement, including shipping, or you can call us with the number of 4 AWS certified welders in your area. Within one working day we will set up an appointment and pay all repair costs. What you do after you get it is up to you. If you get a Level I and jump a boulder, you're on your own. We sell these to guys on the rock crawling circuit and all sorts of other animals. I will guarantee any frame for life if you drive it on the road, take it hunting, and the like. But most of our guys are not like that. To put it in perspective, we've not had one rail break in the five years we have been serving the national Jeep community.